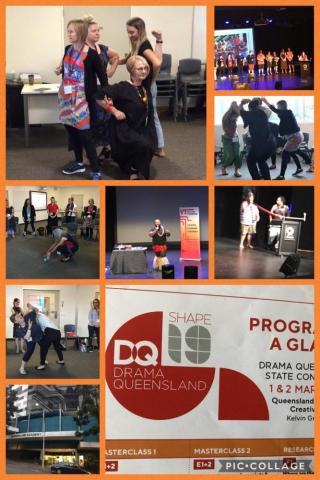 After a warm welcome from Dana Holden, the current president of DQ, there was a participatory keynote. Dr Jonathon Welch is an Australian opera singer and actor who is nationally recognized for his work with award winning ground breaking choral programs including the Choir of Hard Knocks and now Play IT Forward arts programs. After having us all stand and sing together, he told personal and professional stories about the arts as a community building tool. Cool Canadian connection: Dr Welch was inspired to establish the Choir of Hard Knocks by a Montreal Homeless Men's choir, as well as his own family story. My take away as a Drama teacher was when he reminded us to "know when to just be fully present in the moment and bring a sense of joy for that, rather than trying to fix people's personal challenges." Mindfulness matters.
Day 2 of the conference had two keynotes and an inspiring Welcome to Country. Brisbane sits in more than one Indigenous territory. It is Meanjin (Turrbal) and Kurilpa country depending on where along the Brisbane river we sit.  Nadine McDonald-Dowd's keynote: "Nothing About Us, Without Us" rang true in Canada in relation to our Truth and Reconciliation journey in education.  Nadine McDonald-Dowd brought her expertise as an Artistic Director and theatre educator to the table while sharing a practical guide on how First Nations Arts and Cultural Programs should be shaped in Australia. She shared ideas on safe cultural spaces that reminded me that as a visitor to this country and an invading settler in my own country, I have much to learn. Common threads include relationship building, patience, time, honesty with not knowing and expecting the unexpected. She shared the history of lost culture and the process of reclaiming language and story from an Australian Indigenous point of view. Powerful. Two powerful quotes: "If we don't have control over that was being written about us, then who would have that control?" and for the sport loving Australians a quote that carries over here: " If we valued Arts and Culture the way we value sport, what might happen?"
The final keynote, Dr. Tracey Sanders, brought a university perspective to drama education sharing her work in ethnography and applied theatre. She made yet another Canadian connection as she had partially developed her work in Alberta at the Banff Centre for Fine Arts! She shared her pedagogy and praxis and as well as excerpts of powerful verbatim theatre that have been developed from the work. I was left considering critical performance pedagogy and truth in docudrama. "where telling and living coincide?" What is our responsibility when telling a story and what is our story? How can our students develop their own verbatim theatre?
Workshop time! I was thrilled to spend time with Primary teachers (Kindergarten to Grade 6 in Australia) to explore my workshop. Warmly welcomed by 25 teachers from both state (public) and private schools, I enjoyed seeing the many connections in our perspectives and practices. Entitled The Shape of Then, Now and to Come: Drama Inquiry for Eco-Justice, we looked at how we can use process drama for Inquiry in the classroom to explore sustainability issues and global citizenship with a social justice lens. Like any great CODE conference, the teachers were up on their feet in no time, sharing their own perspectives and ideas with relevant local and global connections.  The second workshop with PhD Candidate and drama teacher, Marthy Wilson was great fun as we delved into storytelling with drama to share our favourite picture books. I loved this as a primary teacher, I got to learn some favourite Australian picture books and we had a lot of laughs. I didn't know Graeme Base of Animalia fame was Australian and I learned a lovely tale called  My Grandma Lived in Gooligulch. Afterwards, I had a wonderful lunch with two of the state school teachers and heard about their experiences in education in Queensland. Then we managed to squeeze in a sample performance from Youth Touring (Queensland Prologue company) and Kitch Culture with Kitchener Wesche. Wesche is a Samoan Toa Warrior and beatboxer who was engaging and fantastic, from "boots and cats" beginner beatboxing to Samoan language and culture learning! The afternoon was spent in Master class on Making and Shaping performance with Australian youth theatre and drama education company Shake and Stir. It was a practical class in the rehearsal process and how to embed games, activities and strategies to bring a script to life.
The weekend was jam-packed and ended with a presentation from the State Ministry of Education Drama Officer - yes they have one of those who works FULL TIME -  who supports drama curriculum in the state. It was fascinating to hear teachers work through a new curriculum with their Queensland Curriculum and Assessment Authority. We were then released to a lovely cocktail and treats and time to network with our new colleagues. I will definitely stay in touch with some of the people I met. A huge thanks to the committee and in particular Emma Funnell for welcoming me to the conference! Thank you Drama Queensland! You have friends in Ontario - come on over!
To read more about the conference keynotes and presenters, visit: http://www.dramaqueensland.org.au/wp-content/uploads/2019/02/DQ-Program-SHAPE-2019-final.pdf