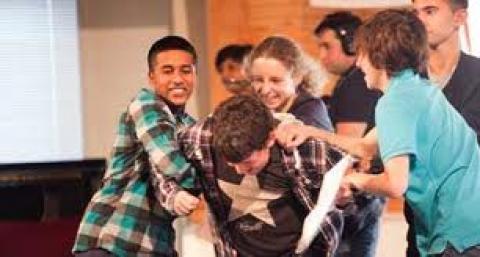 The University of Warwick, where I am undertaking my MA in Drama and Theatre in Education, has a number of interesting initiatives underway that may be of interest to those of us teaching in Ontario. Most recently, the Teaching Shakespeare program has been launched by the University of Warwick and the Royal Shakespeare Company. Available through an e-learning platform to teachers around the world, this program promotes an active approach to teaching Shakespeare and consists of lessons, videos, webinars and scholarly readings from esteemed practioners from the UK and USA. Teachers can sign up for access to the resources only, or pursue a Postgraduate Certificate in Teaching Shakespeare and even embark on an MA Pathway in the teaching of Shakespeare's works.
I had the opportunity recently to peruse the site and sit in on a live webinar with instructor Rachel Dickinson. I found the site easy to navigate and full of useful drama activities to be used with many of the plays taught in Ontario classrooms, as well as interesting readings on investigating Shakespeare's world and the use of questioning in the classroom. The webinar was a brand-new experience for me-- I got to watch a virtual presentation on the World Shakespeare Festival and listen in as teachers shared their learning and experiences with one another through an online forum. In addition to live webinars, the Teaching Shakespeare program will offer summer intensives at the Royal Shakespeare Company in Stratford this summer. Visit the website to find out more.
The Teaching Shakespeare program is just one of in initiatives that Professor Jonothan Neelands, a long-time friend of CODE, is involved in at the University of Warwick. Jonothan has also taken on the role of Professor of Creative Education at the Warwick Business School, using his expertise in drama and theatre education to assist business students in their own creative learning as future leaders. Watch the video 'Leadership and the Art of Judgement' to find out more about Jonothan's work in this new and evolving area of education.