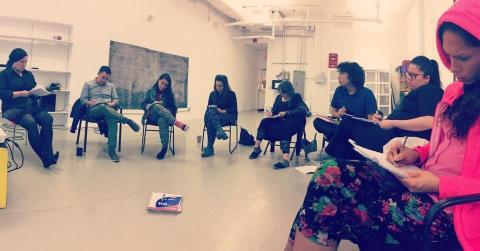 Taqralik's work communicates a mix of influences from hip hop to Inuit storytelling. It draws it's energy from the gritty street experience of Montreal's urban Inuit, and from childhood memories of life in Kuujjuaq, Rankin Inlet and Iqaluit. Her words are as beautiful and as harsh as life in the North itself. Taqralik shared with us a variety of spoken word styles but her performance of  'I picked Berries' brought tales of the North alive. 
Participants were inspired to write short poems from their own experiences or on a topic with which they had strong expressive opinions. Some of us chose to write on the topic of Water and solidarity with Standing Rock. Taqralik emphasized that you should focus on the delivery and rhythm of your spoken word rather than become restricted by the writing and grammar or structure on a page. She did add that repetition and rhyme are great poetic devices but that spoken word pieces are very free flowing and in fact, anything goes. In the end the focus of performance poetry is how it makes you feel, what experience it brings and effect it has on you.  The human connection from speaker to audience, based on emotions and lived truths expressed creatively, is the basis for spoken word poetry.
Helping our students identify and value their own emotional connections will make writing easier because it can flow from the heart and not solely from the mind. 
Truly an inspiring and insightful workshop!
Check out more events from Native Women in the Arts! The Kwe performance series continues in January with Sadie Buck, renowned traditional and contemporary Haudenosaunee singer.
The Kwe Performance Series presents artists from diverse nations and communities and leads to a deeper understanding and appreciation for Indigenous arts, culture, and community. The Kwe Performance Series events include performances and workshops for the community in Toronto as well as outreach to on reserve and under-serviced communities in arts in Ontario.